Jackrabbitt coast to coast training ride part 4
Our forth Thursday night training ride came around as quick as usual with another 7:30 start at the turf this time extra motivation was needed due to the torrential rain. So as we sheltered under a tree in the sands car park the route we were going to take was worked out.
So we are going there then are we grave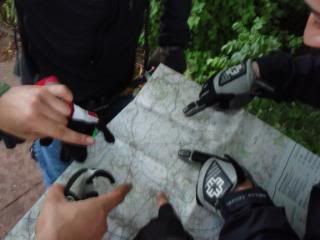 This any help there grave
Ready steady go
So from the turf we set out for London road on another epic journey in to the countryside yet again we caused as much mayhem as possible on the way to London road via ems house to get a sketch map of where to go. With map in hand we set sail for eastern way to cut on to London road once on London road we made our way towards cumwhinton road where we waited for the groop to catch up.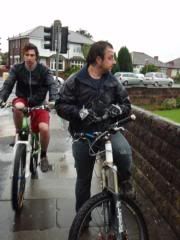 once we had all re grouped we forged on out to cumwhinton with a brief stop on the bridge over the M6.
from cumwhinton we headed straight through on the road to weatheral then about a mile away from weatheral we turned right for weatheral shields or is it strait on and the next right no it wasn't double back a mile to the first turning. Once we were back on the right road heading for weatheral shields then on to armathwait along the way flying down some long steep hills. And once again we pit stopped at the pub in armathwait very quickly due to the fact we were loosing light fast and between us all we had 2 red lights and 1 high vis vest. We decided it would be safer to return the same route as we had came on as it would be safer than heading back on the A6. So it was back to weatheral shields back up the killer hills we all somehow made it up them with very few stops. From there we headed back to cumwhinton and back in to Carlisle. Where we all went our separate ways.
This ride took just over 2 hours to get to armathwait and about half the time to get back we were doing well that night.
Part 5 coming soon